Many people decide to take on the fun task of getting every shiny Eeveelution. Here they are in order of how nice their shiny coats are.
If you're an expert at Pokemon Go, you've probably made it your goal to catch all the Eeveelutions. You'll also want to catch the shiny versions of the Eevee evolutions, along with the regular ones. With Eevee and its eight Eeveelutions, plus Eevee itself, it can take a while to get all of the shiny Eeveelutions in Pokemon GO.
We'll look at each shiny Eevee evolution's appearance, as well as its max CP, stats, and promise in battle, to figure out which ones are the best. As you look for these shinies in the real world, you'll find that Pokemon GO might be the best place to do a shiny hunt for these unique Eeveelutions.
Shiny Eevee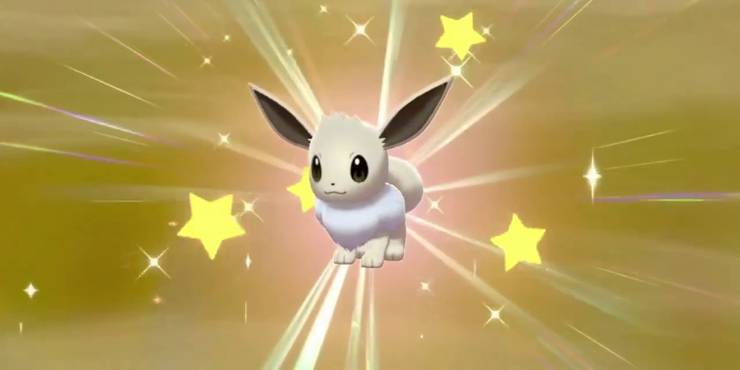 | | | | | |
| --- | --- | --- | --- | --- |
| Max CP | Max CP (Level 40) | ATK | DEF | STA |
| 1,210 | 1,071 | 104 | 114 | 146 |
Even though Eevee isn't technically an Eeveelution, it is where it all began. Shiny Eevee is pretty cool. Instead of being a bright brown like normal Eevee, it is more of a pale grey colour. This fan favourite looks less bright because the colours have been washed out.
Even though it has a nice shiny version, it will rank last because it can't be used in most types of battles. Eevee is a Normal-type Pokémon with a maximum CP of 1,210 (1,071 at level 40) and a maximum Attack, Defence, and Stamina of 104/114/146, respectively. If you want to turn shiny Eevees into the strongest versions possible, you should make sure their stats are at their maximum.
How To Get A Shiny Eevee
You'll have to go out into the open world to catch a Shiny Eevee. If Eevee is honoured in a Community Day, your chances of catching a Shiny will be even higher.
There are a few ways to get an Eevee to grow into an Eeveelution, and one of them is to change its name in-game to a certain word. This only works once per nickname and account.
Shiny Leafeon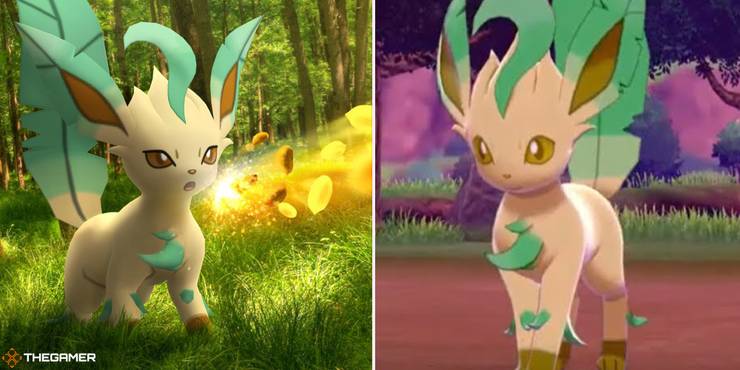 | Max CP (Lvl 40) | Max CP (Lvl 50) | ATK | DEF | STA |
| --- | --- | --- | --- | --- |
| 2,944 | 3,328 | 216 | 219 | 163 |
Leafeon is one of the Eeveelutions that was added to the game more recently. This is the Grass-type evolution, and its maximum CP is 3,328 (level 40: 2,944). Leafeon's max CP is less than Flareon's, but that doesn't mean it's a lot worse. Its maximum Attack, Defence, and Stamina are 216, 219, and 163, respectively. The problem is that grass-types don't fit into the PvE game, but they aren't completely useless either.
Shiny Leafeon has a lot of subtlety. The colours get a little darker and brighter, which is a nice change from the usual manila-yellow that most Pokemon are. But it's so small that you almost don't notice it, which isn't very impressive.
How To Get A Shiny Leafeon
You can give your Shiny Eevee the name "Linnea" and evolve it once to make sure you get a Leafeon. Without using the nickname, you need to use 25 Candies to change a Shiny Eevee into a Leafeon while standing near an active Mossy Lure Module.
Shiny Flareon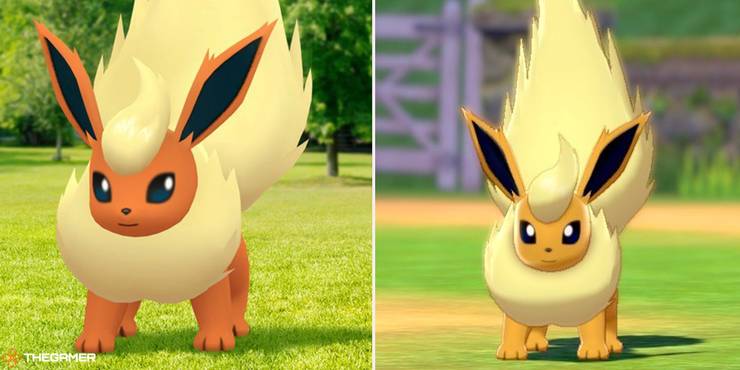 | Max CP (Lvl 40) | Max CP (Lvl 50) | ATK | DEF | STA |
| --- | --- | --- | --- | --- |
| 3,029 | 3,424 | 246 | 179 | 163 |
Once, Flareon, Vaporeon, and Jolteon were the only three shiny Eevee evolutions you could get in Pokemon GO. Flareon is a Fire-type Pokémon with a maximum CP of 3,424 (level 40: 3029), and its maximum Attack, Defence, and Stamina are 246/179/163.
Flareon is a good Fire-type Pokemon to have, but it isn't as good as Moltres, Heatran, Entei, Reshiram, and many others. It also doesn't have a huge number of moves to choose from. Flareon is a Fire-type Pokémon, but it isn't a Legendary, so it can be much easier to level it up than many of the best Fire-types.
If you're trying to fight with your shiny Eevee evolutions, it's good to know that sunny weather helps Flareon. The shiny Flareon looks a lot like the original Flareon, but with less colour. The original coat is orange and red, but this one is more of a gold-tan colour.
How To Get A Shiny Flareon
In Pokemon Go, you can change the name of a Shiny Eevee to "Pyro" and then evolve it to get a Flareon every time. If you don't have 25 Candies, you can evolve a Shiny Eevee into a Flareon (as long as you haven't met the requirements for the Eevee to evolve into a different Eeveelution). You can't be sure you'll get Flareon. This method could give you a Vaporeon, a Jolteon, or a Flareon.
Shiny Jolteon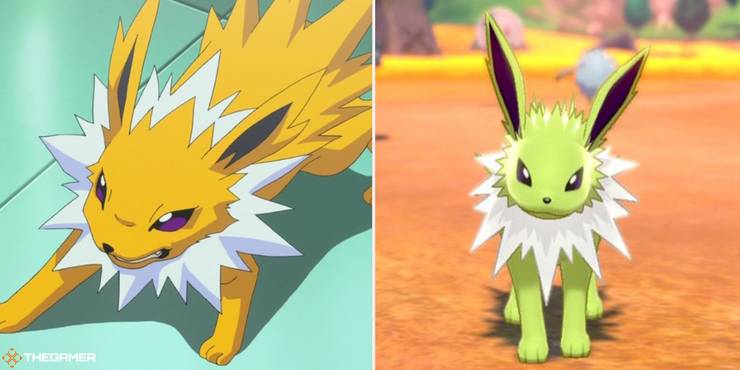 | Max CP (Lvl 40) | Max CP (Lvl 50) | ATK | DEF | STA |
| --- | --- | --- | --- | --- |
| 2,888 | 3,265 | 232 | 182 | 163 |
Jolteon is the Electric-type Eeveelution. It was released along with Vaporeon and Flareon in Generation One. The shiny version of Jolteon isn't for everyone, unless you really like green, because Jolteon's hair changes from bright yellow-gold to lime green. It's not the best colour, but it's a fun change that stands out more than other Eeveelutions.
With a maximum Attack, Defence, and Stamina of 232/182/163, Jolteon has a lot of power, but it is also a bit of a "glass cannon." Once upon a time, Jolteon was the best Electric-type Pokemon. However, Electivire and Raikou have since passed it in power. But it is still useful in PvP, especially in the Ultra League. Its maximum CP is 3,265, and at level 40, it is 2,888.
How To Get Shiny Jolteon
If you call your Shiny Eevee "Sparky," it will always turn into a Jolteon (once per account, though). There is no sure way to get Jolteon without the nickname. You have a 33% chance of getting it when you give 25 candies to a Shiny Eevee and let it evolve, as long as none of the other conditions for other Eeveelutions have been met.
Shiny Vaporeon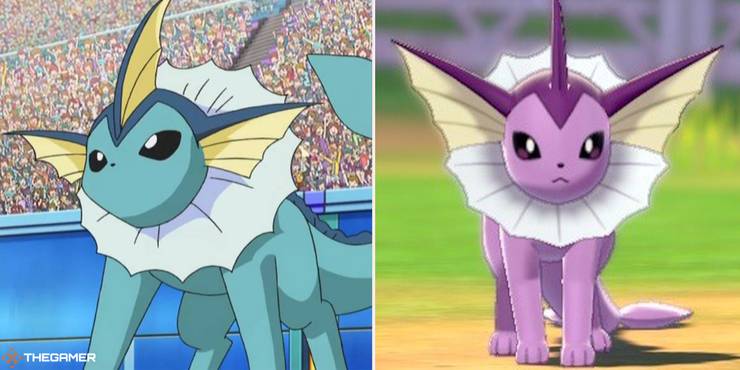 | Max CP (Lvl 40) | Max CP (Lvl 50) | ATK | DEF | STA | Nickname |
| --- | --- | --- | --- | --- | --- |
| 3,114 | 3,521 | 205 | 161 | 277 | "Rainer" |
Vaporeon was one of the first Eeveelutions and has a max CP of 3,521 (level 40: 3,114). If you've been playing Pokemon GO since it came out, you might remember when Vaporeon was the game's clear champion and the best gym-attacker. But those times are long gone, and Vaporeon has been knocked down the list of best Pokemon several times.
Today, it's a good cheap choice, but Kyogre, Gyarados, Palkia, Swampert, and many others are much better. It is used in the GO Battle League, but it doesn't have much promise. But once again, it's not as good as other choices in every league. It can stay on its feet for a pretty good amount of time, thanks to its 277 maximum Stamina. Its Attack can go as high as 205, but its Defence isn't very good at 161.
As for Vaporeon's shiny version, its new fuchsia colour really stands out. It's probably one of the biggest differences between a normal Eeveelution and a shiny one, and it's also one of the more interesting changes.
How To Get Shiny Vaporeon
Rainer is the only name you can give a Shiny Eevee that will always make it evolve into a Vaporeon. This can only be done once per account. Vaporeon is the third and last Pokemon that can't be successfully evolved, just like Flareon and Jolteon. When you evolve a Shiny Eevee with 25 Candies and nothing else special, there is a 33% chance that it will become a Shiny Raichu.
Shiny Glaceon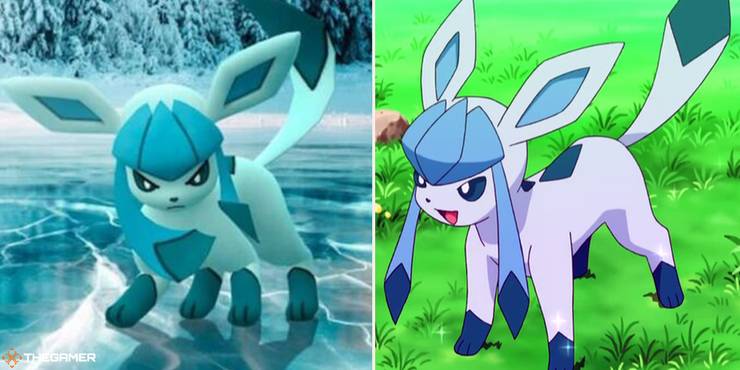 | Max CP (Lvl 40) | Max CP (Lvl 50) | ATK | DEF | STA | Nickname |
| --- | --- | --- | --- | --- | --- |
| 3,126 | 3,535 | 238 | 205 | 163 | "Rea" |
Glaceon is an Ice-type Eeveelution that was added to Happy Wheels game when Leafeon was. The best possible CP for Glaceon is 3,535 (level 40: 3,126), which is great. For maximum Attack, Defence, and Stamina, you're looking at 238/205/163. Even though these don't look like much, Glaceon is a great choice in PvE. Sure, Ice-type attackers like Mamoswine and Weavile will be better than it, but it's a great addition if you don't already have six of the best Ice-type attackers. Glaceon is easy "B-team" stuff.
Another thing is PvP, which doesn't shine in the big games. There are a lot of scary opponents in the Ultra and Master leagues, like strong, shiny legendary Pokemon like Giratina and Groudon. Glaceon is pretty good, but Ice isn't very good at defence, and Glaceon doesn't have much bulk.
The Ice-type shiny Glaceon doesn't win any awards for its look, but it is very pretty. It's possibly one of the most subtle changes in the whole list of shiny Eevee evolutions, as the teal colour is replaced by a slightly bluer and lighter colour. It looks a lot more like ice when it's shiny, which is nice.
How To Get Shiny Glaceon
If you give a Shiny Eevee the name "Rea" and let it evolve, you will get a Glaceon (once per account). If you're not near an active Glacial Lure Module, the only way to turn a Shiny Eevee into a Glaceon is to use 25 Candies and evolve it while you're there.
Shiny Sylveon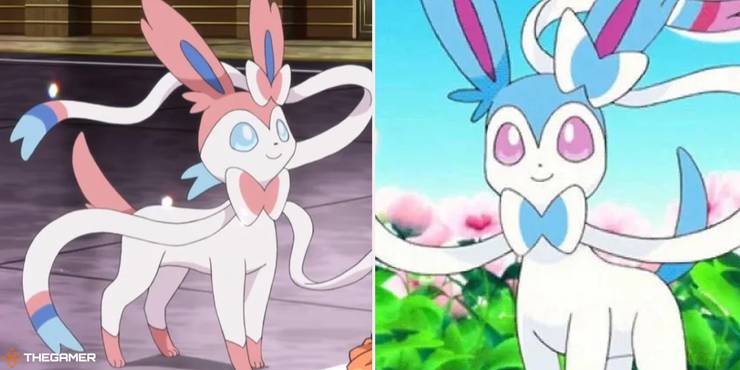 | Max CP (Lvl 40) | Max CP (Lvl 50) | ATK | DEF | STA | Nickname |
| --- | --- | --- | --- | --- | --- |
| 3,069 | 3,470 | 203 | 205 | 216 | "Kira" |
Sylveon is just as good in battle as Vaporeon and Jolteon, but it is ranked better than them because it has a really cool shiny form. Swapping some of Sylveon's pink for blue and some of its blue for pink makes its shiny stand out and match its normal colouring perfectly. Together, they make a great pair.
Sylveon is okay as a fighter; it's a good choice for a Fairy-type attacker, especially if you're low on Candy. It can't compete with other Fairy-type fighters like Togekiss and Gardevoir because its maximum CP is only 3,470 (3,069 at level 40) and its maximum Attack, Defence, and Stamina are only 203/205/216. It will do okay in PvP, especially since it's good at stopping widely used Pokemon like Giratina and Dialga, but it's still not as good as Togekiss in higher leagues or Wigglytuff/Clefable in lower leagues.
How To Get Shiny Sylveon
As with the other Eeveelutions, you can call a Shiny Eevee "Kira" and it will always evolve into a Sylveon, as long as it's the first time you've used this name on your account. Without the nickname, it might take a while to turn a Shiny Eevee into a Sylveon because you have to earn 70 hearts with the Eevee first.
Shiny Espeon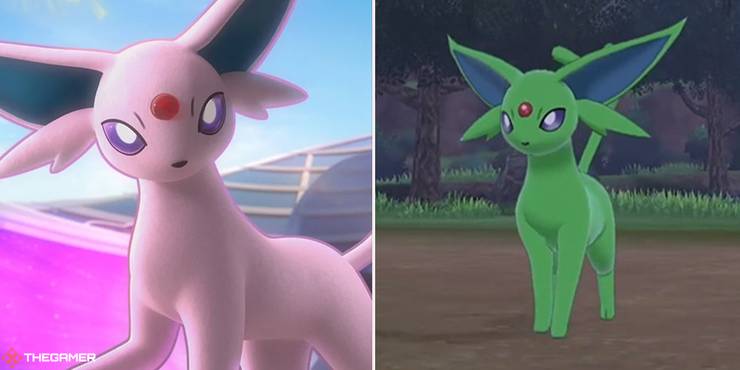 | Max CP (Lvl 40) | Max CP (Lvl 50) | ATK | DEF | STA | Nickname |
| --- | --- | --- | --- | --- | --- |
| 3,170 | 3,583 | 261 | 175 | 163 | "Sakura" |
Espeon is one of the Eevee evolutions that looks the most beautiful, but the shiny version looks nothing like the original. The regular Espeon has a coat that is light purple-pink, while the shiny Espeon has a coat that is bright green.
Even though shiny Espeon might look a little strange, this Psychic-type Eeveelution is by far the best in PvE fight. With a max CP of 3,583 (3,170 at level 40) and a max Attack/Defense/Stamina of 261/175/163, it beats raids and gym guards like Machamp and Venusaur that are Fighting- or Poison-type. Its max Attack stat is the second-highest of any Eeveelution stat, just behind Vaporeon's max of 271 in Stamina. This puts it just behind the Psychic-type giants Mewtwo and Latios in terms of power. Like Glaceon, it's a great choice for the B-team, but it's easy to move it up to the A-team because it's so much easier to get than other top-tier Psychic-types.
Regarding PvP… Let's not bring it up. It's wrong. But if you want to fight with your shiny Eeveelutions in general, shiny Espeon is without a doubt the best in PvE.
How To Get Shiny Espeon
You could evolve a Shiny Eevee into a Shiny Espeon. First, you could use the special name for Espeon. If you give your Shiny Eevee the name "Sakura," you will always get an Espeon the first time. You'll have to do some work without the nickname. After going 10 km with you as your Buddy, the Shiny Eevee needs 25 candies during the day.
Shiny Umbreon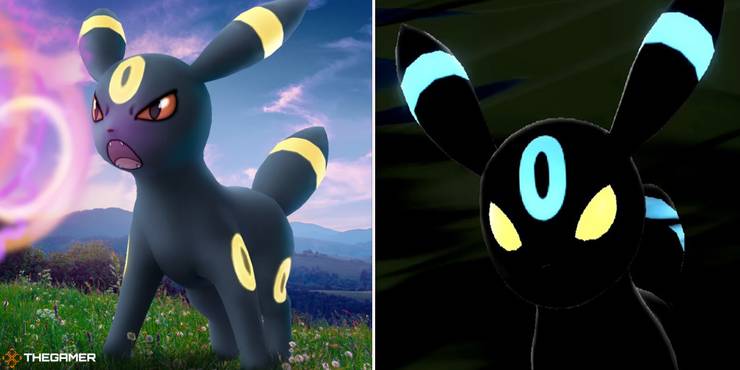 | Max CP (Lvl 40) | Max CP (Lvl 50) | ATK | DEF | STA | Nickname |
| --- | --- | --- | --- | --- | --- |
| 2,137 | 2,416 | 126 | 240 | 216 | "Tamao" |
Umbreon might be one of the sleekest-looking Eeveelutions. Its Shiny Form is just different enough to stand out, but not so different that it's too much. Umbreon's black and yellow design is famous and screams "starry night sky," but the shiny's black and blue colours give off a more romantic and subdued "nightfall" vibe. The look of night is perfect for this Pokemon, which is often connected to the night.
Before PvP, Umbreon's low CP and Attack put it in the lower ranks of Eeveelutions when it came to its ability to fight. Now, though, it does well in both the Great and Ultra leagues and ranks among the best Pokemon.
Umbreon has a maximum CP of 2,416 (level 40: 2,137), which makes it a good gym fighter but not a great gym attacker. But it's one of the best in the Battle League. Because it has a low Attack and a high Defence (maximum Attack of 126, max Defence of 240, and max Stamina of 216), most attacks, except Fighting-types, won't be able to knock it down for a long time. It was never that good in the Ultra League before, but with the Best Buddy boost, it will become a huge tank that can stop common opponents like Giratina.
How To Get Shiny Umbreon
Shiny Umbreon can be evolved from Shiny Eevee if you call it "Tamao." This only works once per account; after that, you'll need to feed the Shiny Eevee 25 Candies, walk with it as your Buddy for 10 km, and evolve it at night.